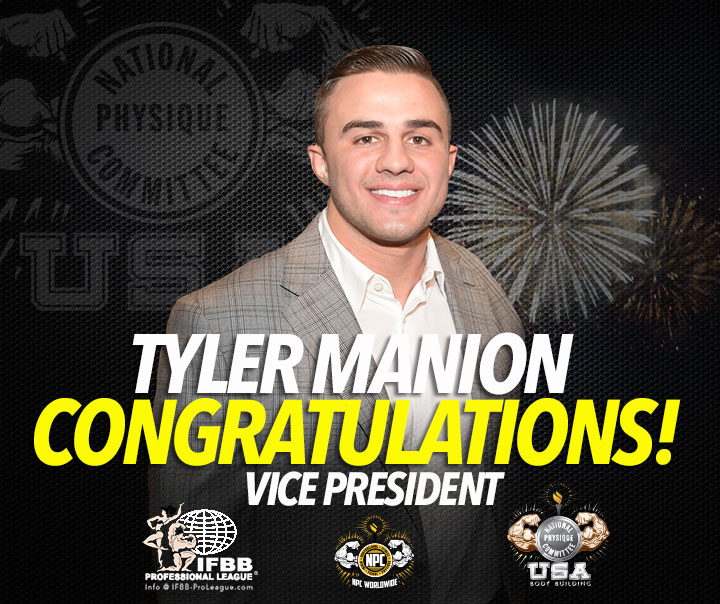 NATIONAL PHYSIQUE COMMITTEE & IFBB PROFESSIONAL LEAGUE
PRESS RELEASE
Pittsburgh, Pennsylvania, May 16, 2019 – It is with tremendous pleasure to announce that Tyler Manion has been appointed as the Vice-President of the National Physique Committee of the USA (NPC), NPC Worldwide and the IFBB Professional League.
Like all NPC judges, Tyler started test judging at NPC local, state and national contests while attending the University Of Maryland on a wrestling scholarship.  He graduated with a Business Management degree from the prestigious Robert H. Smith School of Business and was on the Dean's List every semester.  Tyler also received a post graduate scholarship from the Big Ten Conference that is only awarded to 28 student-athletes per year, 2 from each university, based on their academic achievements.
He took his NPC national judges test at the 2013 NPC USA Championships and then started judging the NPC National show circuit. By 2018, he also did his first head judging at the 2018 IFBB Pittsburgh Pro handling the men's divisions with NPC and IFBB Pro League Head Judge Sandy Williamson handling the women's division. From that contest on he has head judged at numerous other NPC and IFBB Pro League contests, sharing the duties with NPC and IFBB Pro League Head Judge Steve Weinberger and the aforementioned Williamson, amongst other head judges. "I have been lucky to be mentored by the best, Steve and Sandy, not only about how to judge, but also handling any situation that arises at a contest," Manion said.  He has now sat on the judging panels of almost every NPC national contest and also the IFBB Pro League Olympia and IFBB Pro League Arnold Classic USA.
Tyler has been working behind the scenes for the past 7 years with his grandfather, President Jim Manion, to assist in many aspects of the business. Tyler's duties include setting up judging panels nationally and internationally and assisting in the growth and expansion of NPC Worldwide and the IFBB Professional League.  Being a former NCAA Division 1 wrestler, Tyler was instrumental in shaping the Men's Classic Physique height and weight requirements for the NPC and IFBB Pro League and their subsequent revisions.
"I'm looking forward to working further with my grandfather to grow the NPC, NPC Worldwide and IFBB Professional League to heights that have never been attained before," Manion said. "I am fortunate to have a great teacher in my grandfather, just as he had Ben Weider as a mentor, and I want to help him achieve his ever expanding vision for the sport we all love!"
To learn more about the NPC, NPC Worldwide and IFBB Professional League, visit; www.NPCNewsOnline.com and www.IFBBPro.com